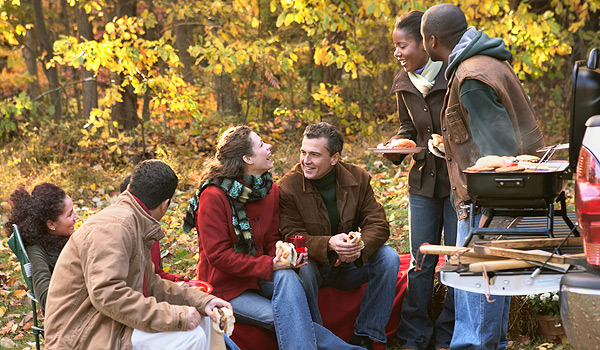 Friday night lights, crisp autumn air, big comfy sweatshirts, and the cheers of rambunctious fans in the air – yes folks, football season is in full swing, and for many of us, it means eating like those linebackers we're cheering for. That's because along with football season comes the heavy traditional football season comes the heavy traditional football fare: hot dogs, cheeseburgers, grilling galore, and a general onslaught of mindless eating and overconsumption of not so eco-friendly convenience foods as we cheer on our favorite jersey-clad fellas. Looking to turn your tailgate green? Into something a little friendlier to your girth and the earth? To bring something manly and hearty enough that you'll be the envy of the sporting nest? Check out some of my suggestions below:
Typical Tailgate Fare: Generic Domestic Beer
Eco-Swap: Local Microbrew
The Score? Pick a local microbrew and shave the miles down on how far your libations are traveling, ultimately cutting on the amount of gas-guzzling needed to get that beer to your tailgate scene (liquids are one of the heaviest items to chip, making local drinking a greener choice). Scout out a delish beer that's brewed within a 100 mile radius of where you live/tailgate whenever possible – an option that's easier than ever before with the proliferation delicious microbrews across the country. Alternate beer with some water from you reusable water bottle and you'll stay even leaner.
Typical Tailgate Fare: Potato Chips
Eco-Swap: Kale Chips
The Score? If your team is sporting a green jersey, this is even more of a must: kale chips are a great, nutrient-packed alternative to traditional potato chips, and are a snap to bake up for guests. Preheat your oven to 300°F and rinse and dry one bunch of kale (about six ounces). Remove the stems and center ribs, cut into large pieces, toss with one tablespoon of olive oil, and sprinkle them with sea salt. Arrange leaves in a single layer on a large baking sheet and bake for about 20 minutes, or until crisp. And voila! You've got yourself a potato chip-esque crunchy snack, with the added bonus of beta-carotene, lutein, vitamin C, and iron. Not only can your guests gobble them up, guilt free, but you're also saving on all the petroleum-based packaging that comes with standard potato chips.
Typical Tailgate Fare: Queso Dip
Eco-Swap: Salsa
The Score? Standard queso dip has about 20 calories per tablespoon, while your homemade salsa has half that at 10 calories per tablespoon, not to mention the powerful nutrients you pack with that yummy blend of tomatoes, onions, and corn - and zero fat! And since meat and dairy make up roughly 50% of a family's "foodprint," any time you can swap from cheese to veggie, you're going a deeper shade of green. See if you can find a locally made salsa at your farmer's market (which usually still go strong through much of the tailgate season). Want to go the extra mile? Buy your ingredients organic, or use some of your own garden harvested goodies and make your own. Check out www.FoodNetwork.com for some super easy and delicious recipes.
Typical Tailgate Fare: Pork Bratwurst
Eco-Swap: Turkey Bratwurst
The Score? Talk about calorie savings here. A standard pork brat charges your calorie budget a whopping 450 calories and 37 grams of fat, compared to 160 calories and 9 grams of fat for the turkey version. Invest in pesticide free and organically farmed turkey and you've got a tailgate touchdown for your guests and the planet.
Want more tips for a lean tailgate? Pick up this month's copy of Men's Fitness and check out my secrets in "Have a Fit Tailgate." Have any other innovative tailgate ideas? I'd love to hear them!