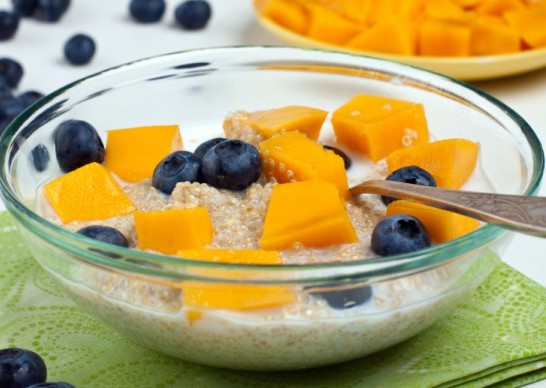 I adore quinoa – it's a versatile, super quick-cooking, high-protein seed (packing 11 grams of protein per cup!). In fact it is so nutritionally complete, NASA has considered growing it on extended space missions. But many of us overlook quinoa in our morning rush. Instead of your usual bowl of ho hum cereal or oatmeal, try something deliciously different with heaps of comfort and flavor-that will provide clean energy to power you through your morning. While you can whip it up in a snap, it's especially easy if you have leftover cooked quinoa in your in the fridge.
This is one of two plant-based breakfasts I posted on The Oz Blog recently that provide plant based protein to bring staying power to your breakfast. See my first pick, Curried Scramble Tofu With Apricot Toast here on The Oz Blog or here among some other amazing soy recipes I posted for Earth Day this year. Let me know what you think!
Clean Energy Breakfast: Quick and Comforting, Quinoa Swirled with Almond Milk
Ingredients 1 cup prepared quinoa (according to package directions) 1/2 cup almond milk (or other milk if you prefer) 1/2 cup fresh berries and sliced mango
1/4 tsp cinnamon or nutmeg
(optional) Drizzle of 1/2 tsp honey or maple syrup
Directions Place quinoa in a small bowl. You can heat up the quinoa and almond milk first to enjoy it warm, or keep at room temperature.
Top with fresh fruit. Sprinkle with cinnamon or nutmeg. Drizzle honey or maple syrup on top.