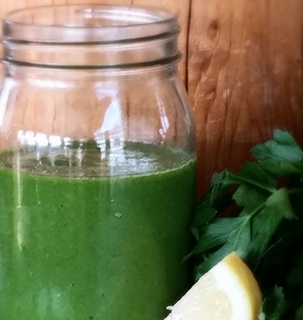 Spring is such a perfect time to reflect on the renewal and regeneration that is possible in your own life by taking one step at a time towards your highest health. And with Earth Day right around the corner, here is a super green, refreshing and energizing new green smoothie I am loving right now, inspired by this innovative Vega recipe. When I first saw said recipe, I did a double take...garbanzo beans? I loved the idea of including an ultra clean protein source to the mix for some added fiber and protein that didn't have to come in a powder. So I invited my good friend over, food visionary chef Jason Kieffer, (former executive chef at Google and former vegetarian executive chef at Microsoft) and we set to tinkering with it. In short, we decided to amp up the herbs and greens, which are packed with bioactive compounds that support detoxification and health, added green grapes and cukes for bold green color and a hint of sweetness, and made a few other changes. The result? Let's just say after multiple tries, this was the final version my kids wouldn't hand back to me, but guzzled down themselves.
For even more protein (the garbanzo beans add a modest 3 grams), simply add a scoop of your favorite protein powder.
Energizing Green Smoothie with Fresh Mint, Cucumber and Garbanzo Beans
Ingredients:
1/4 cup garbanzo beans (drained, rinsed)
1/3 cup fresh basil leaves
1/3 cup fresh mint leaves
1/4 cup fresh parsley
1/2 cup English cucumber, diced
1/2 cup organic green grapes
1/2 cup ice
1/2 cup organic spinach
1/2 cup frozen mango
1 Tbsp fresh lemon juice (or about 1/3 of a lemon)
.
Directions:
1. Place all ingredients in a Vitamix or blender and blend, on medium speed, until completely pureed. It's best to do it on on medium instead of high to preserve the vibrant green colors of the herbs. Pour into glass and enjoy immediately.